ROOT CAUSES: INTEGRATIVE. INVESTIGATIVE. RESTORATIVE.
---
Skin Care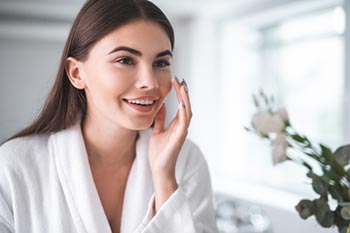 If you want to freshen up your look before a special event, you may be able to achieve significant results with just one session under the Lumiere lamp. However, the Lumiere system offers the best results after a series of sessions. A once-per-week treatment is all it takes to trigger the collagen production process, promote DNA repair and help the skin appear stronger and more resilient.
Key Anti-Aging Benefits of the Lumiere Light Therapy System Include
Decreases fine lines and wrinkles
Detoxifies the skin
Evens out pigmentation
Increases serotonin levels
Minimizes facial pores
Moisturizes dehydrated skin so that skin can retain moisture naturally
Plumps up and smooths out rough or dry skin
Reduces the appearance of age spots
Reduces the effects of sun damage
Restores radiance
Stimulates collagen synthesis
Whether you want to tone up the skin, eliminate fine lines, or begin a more intensive facial rejuvenation treatment, the Lumiere system can help you achieve a more youthful look.
Request Your Appointment Today!
To request your appointment, please call (239) 347-9234 or contact us online today!
---
Our Location
Root Causes Holistic Health & Medicine
12734 Kenwood Lane #56
Fort Myers, FL 33907
Phone: (239) 347-9234
Holistic health and integrative medicine clinic serving patients in Fort Myers, Villas, Cypress Lake, McGregor, Cape Coral, and the surrounding Lee County, FL communities.